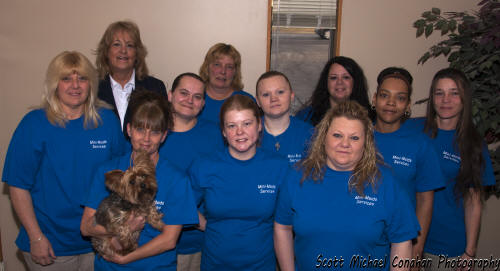 Owned and operated by Liz Raymond-Lowe since 1978, Mini-Maids Services was actually the very first maid service in the Columbus, Ohio area. Pioneering the personal home service industry, we continue to build a trusted name and a favorable reputation among our clients. Customer service is our
only
product and one that we do not take lightly. Our job is not finished until you are completely satisfied. In fact we offer a 100% guarantee that
if you are not completely happy with any cleaning performed by Mini-Maids Services, we will promptly return to your home and clean at no charge.
All crew members are employees of Mini-Maids Services. We do not subcontract our labor. We pay all State, Federal and Social Security taxes. In addition, all employees are screened through
Corporate Security
, which conducts nationwide background investigations.
All employees are bonded and insured. From the conception of Mini-Maids Services our insurance has been handled through McCormick and Reinmuth Insurance Agency.
Each employee must complete a very thorough training program and they are evaluated continually. Each and every home is inspected by a supervisor and random checks by management are completed regularly.
Testimonials
It is still such a pleasure and relief to come home to a clean condo. Hiring Mini Maids Services to clean my home was the absolute best decision I've ever made and I am thankful for your service and the great job the crew does every other Tuesday. I've never had a single concern or complaint.
- Irene K. - Upper Arlington
I cannot tell you how wonderful it is to come home after a hard week at work and our home is clean and fresh. We were a little reluctant at first to have someone in our home while we are gone but there has never been a problem.
- Jim - Westerville client since 92
I've been VERY happy with Mini-Maids over the years. The girls have all been considerate and easy to talk with. Naturally when you have a relationship with someone for this long there are bound to be glitches somewhere but they have always been very good about resolving any issues that we may have had. They have really served our family and our needs well!
- Joyce - Bexley client since 1976
To contact us:
Phone: (614) 794-9333
Email: liz@minimaidservices.com

We service all of Franklin County and bordering areas as well as most of Delaware, Licking and Jefferson Township (see map).